A comfortable videonystagmoscope; the mask fitting the face perfectly. This device allows you to visualize ocular movements.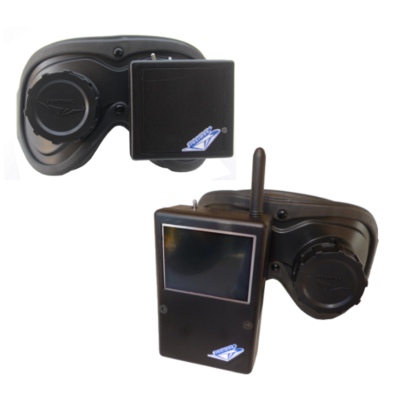 A very light (255g), handy and reliable videonystagmoscope (goggle), fit out with a stable infrared video camera of high resolution, which gives a faithful image of excellent quality. This camera can be tipped over from eye to the other very easily.
Its direct connection to the video input of all the monitors and T.V sets provided with a scart plug makes it very practical and functional.
Moreover, the test can be video-taped and the nystagmus which are examined can be filed.
Set made up of :
• a Framiscope standard glasses with a VIDEO / CAMERA unit – emitter 5,8Ghz.
• an electronic receiver to be connected to a computer or to a T.V monitor (via VGA).
The Framiscope is rechargeable battery operated. Range : 5 hours.
A version with incorporated LCD screen is very handy ! (only 305grams)
A video – Nystagmoscope system with a HF radio contact (cordless) made up of a camera can be used without restraint on the rotational vestibular chair, on trampolino or on walking carpet, and gives at any time a faithful image of excellent quality (very handy for each session of rehabilitation).
Also operates with Framiral VNG Software
Click here to get to the manuals download page.
Click here to get to the brochures download page.