This VideoNystagmoGraphy software, available in 3 versions (refer to Specifications), gives the practitioner all the essential tools for a complete vestibular diagnosis, and oculomotor rehabilitation.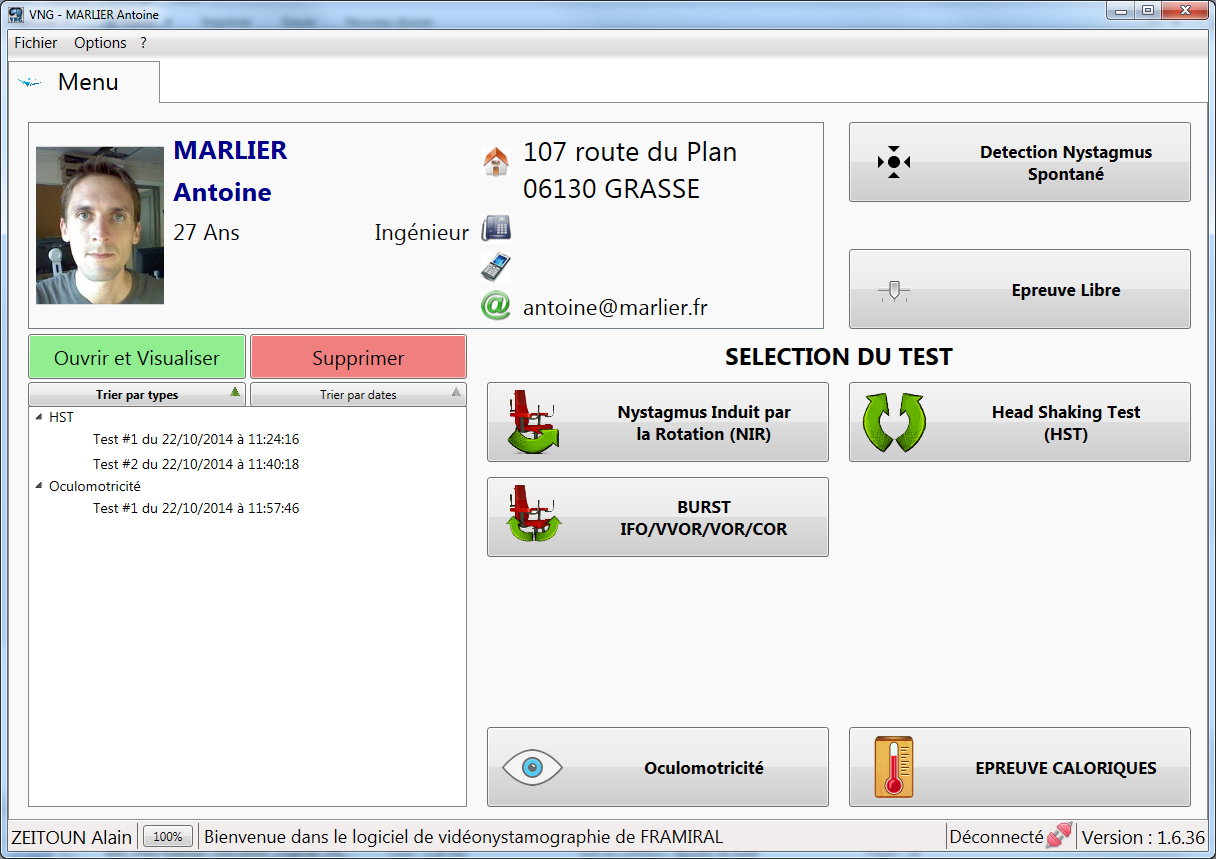 Indeed, VNG will analyze the eye movement, thanks to a robust pupil detection, and an efficient image processing. It will then display all the result you
expect from the specific test you did. In addition, it can be connected to the Rotational Chair (computerized version) to provide an instantaneous and accurate
result of all your Rotation exams (NIR, BURST), with the automatic calculus of the gain, preponderance, speed cumulative… Suitable for beginner, it still offers all the advanced settings for the vestibular exploration enthusiasts. Finally, the user-friendly interface, combined to the FramiGest software will help you to keep track of all your exams, thanks to an automatic recording of the tests made, and the easy building of PDF printable reports.
Nystagmus Induced by Rotation
Click here to get to the manuals download page.
Click here to get to the brochures download page.
LVNGNx
1(scopie)
2(physio)
3(ENT)
General
– Robust pupil detection (Exclusive Framiral algorithm, detects the center of the pupil even if partially masked)
– Compatible with any video input (it is not necessary to disable your webcam).
– Calibration: Adapts to the patient's morphology

O

O

O

Open Test / Spontaneous
– General results: Graphs of position, SPeeds, Slow phases, Cumulative Directions, Framiral Directional Radar
– Rotational chair visualization
– PDF report + printing
– Graphs edition

O

O

O

NIR
– Automatic rotation detection (speed, revolutions..)
– Automatic PER/POST detection
– Preponderance synthesis
– PDF report

X

O

O

BURST
– Automatic position detection
– Exercises IFO – VVOR – VOR – COR
– PDF report

X

O

O

Caloric
– Graphic results(Claussen butterfly, Freyss)
– PDF report

X

X

O

Oculomotricity

X

X

O